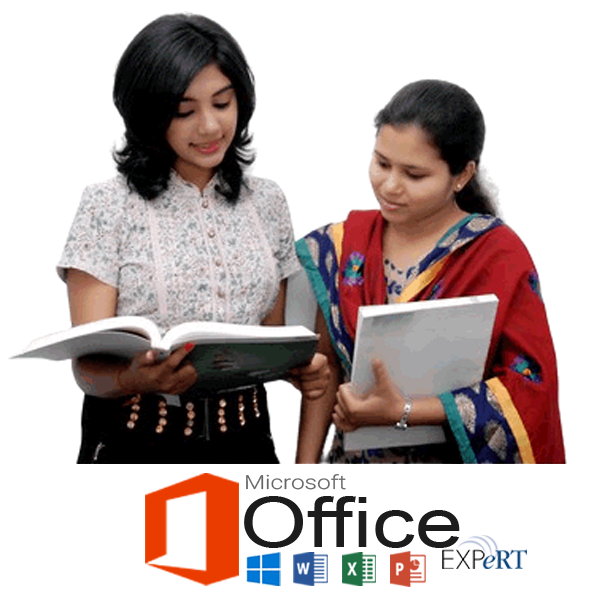 Get MS-Office 2016' Training Classes in Balasore
Gain a good business standard level of knowledge in key Microsoft Office programs – Windows, Internet, Word, Excel, PowerPoint.
Almost every business will use at least one Microsoft Office programme (Word, Excel, PowerPoint) in their day-to-day operations. Many will use the entire suite. As such, a good understanding of the software is essential for any office-based career.
'MS Office-Expert' Course Overview
Windows 10
All About Windows

Navigating Windows

Working with Applications

Working with Windows

Shutting Down your Computer

Working with Files or Folders

Moving and Deleting Files or Folder

Selecting Multiple Files or Folders

Finding Files on your Computer

Searching for Files

Common computer tasks

Keyboard shortcuts in Windows
INTERNET Basic
Introduction to Internet

What Can You Do Online ?

What is the Cloud?

What is a web app?

Using a web browser

Using search engines

Understanding URLs
MS – Word 2016
Menu Bars & Toolbars

Page Setup

Standard & Format Tool Bar

Drawing Tools,Auto-format

Inserting Objects & Pictures

Newspaper style Columns

Borders & Shading

Headers & Footers

Inserting Symbols

Bullet & Numbering

Thesaurus, Word Count

Auto Text Entry

Auto Correct, Tables

Sorting, Mail Merge
MS – Excel 2016
Electronic Spreadsheet Concept

Formatting Fonts

Numbers, Auto-Format

Relative & Absolute Reference

Date & Currency Formatting

Formula charts & Graphs

2D/3D Graphs

Pie, Line Cone

Formatting Charts

Data Values

Sub Total Reports

Auto Filters

Password Protecting Worksheets

Linking Multiple Sheets
MS – PowerPoint 2016
Electronic Slide Presentation

Slide Formatting

Theme & Slide Layout

Clip art Charts-Animation Effects

Setting up a Slide Show & Giving Timings

Linking Word & Excel
What will be the 'MS Office-Expert' Training Syllabus?
What is Internet ?
Learn the basics of using the Internet.
What Can You Do Online ?
Learn all the things you can do online.
Connecting to the Internet
Learn how to get Online and start using the Internet
Understanding the Cloud
Gain a greater understanding of the cloud and how it works.
Using a Web Browser
Use these tips so you can get the most out of your web browser.
Understanding Hyperlinks
Learn how hyperlinks work to connect various webpages
Downloading and Uploading
Learn how to upload and download files on your computer
Using Search Engine
Learn how search engines work, as well as how to use them.
Understanding URLs
Understand how URLs work and what they are.